Choosing the 'right' books takes time and effort. History 500 is here to make it easier and fun for everyone to learn about important books that have stood the test of time and introduce new ones that will entertain and inform.
Give a Gift of History 500 and Open Up a World of  History
Now is your chance to give a lifetime gift of history with a 'Gift Membership' to History 500. Perhaps you have a friend, relative, book club member or know a college graduate who would appreciate having a better understanding of 'what-to-read'.
One (1) $100 Lifetime Gift Membership for a Friend or Relative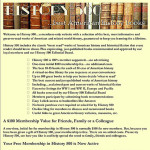 You don't have to be a member of History 500 yourself to give it as a gift. Our gift program consists of a History 500 Gift Certificate  sent by e-mail and personalized with both your gift recipient's name and your own as the gift-giver. History 500 is a lifetime gift all will appreciate...for Christmas, a birthday or any special occasion.
History 500 Gift Membership recipients will enjoy these great benefits:
Lifetime use of the History 500 website and library of over 500 titles
A continuously updated listing of noteworthy, newly released books
Ability to recommend and share great books with fellow members
Interactive blog to post and share comments on books you have read
History 500 links to booksellers, national libraries and museums
A private, members-only environment with no annoying advertising
To Give One (1) or More Gift Memberships to History 500
Simply click on this History 500 link and e-mail your name and the full name and e-mail address of each gift recipient to us.
We'll immediately sign up and notify each individual with a personalized "Welcome" gift certificate from you to them.
We'll then send you an e-mail invoice ($100 each recipient) that you can pay using our secure, online billing service "Paypal". If you prefer to use a check, just let us know.
Questions? Simply e-mail us at the History 500 link above or call us at 610-306-2489.