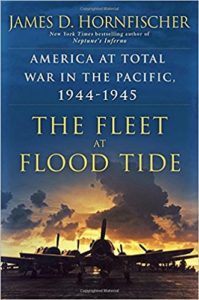 The Fleet at Flood Tide, by James D. Hornfischer (2016 - 640pp)
A master WW II historian's engaging look at the barbaric last year of the war in the Pacific from both the Japanese and American sides and why the A-Bomb was a necessity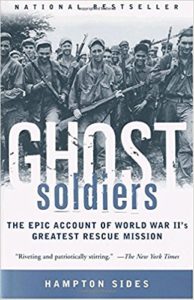 Ghost Soldiers, 
by Hampton Sides (2002 - 384 pp)
Harrowing, suspenseful tale of the attempted rescue by U.S. Rangers of 500 starving prison camp survivors of the Bataan Death March.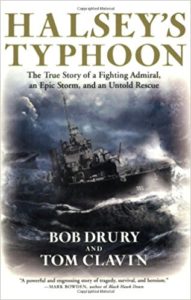 Halsey's Typhoon, by Bob Drury & Tom Clavin (2007 - 352pp)
Tragedy of the monster typhoon that sank 3 U.S. Navy destroyers, drowning 800 sailors of Halsey's 3rd fleet during a risky at-sea underway refueling operation.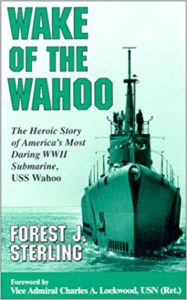 Wake of the Wahoo, by Forest Sterling (1999 - 2011pp)
A 1960 classic of Naval literature of WW II's most daring sub captain, "Mush" Morton, and crew and their final fateful voyage in the sea of Japan.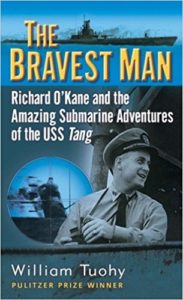 The Bravest Man, by William Tuohy (2006 - 448pp)
The amazing exploits of the most successful U.S. Sub skipper of the war who sank 31 Japanese ships and rescued more downed pilots than anyone else.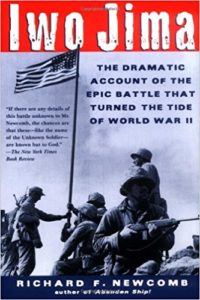 Iwo Jima, By Richard F. Newcomb (1965 - 352pp)
Superb telling of the bloody assault against a tenacious dug-in enemy to capture Iwo and its airbases as a critical stepping stone to Japan.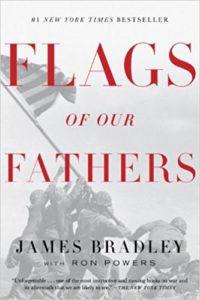 Flags of Our Fathers, by James Bradley (2006 - 382pp)
Inspiring story of  the most famous U.S. battle photo of all time and the 6 combat-weary Marines who raised the U.S. flag at Iwo Jima. Three of them died there.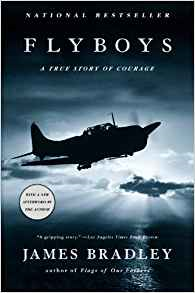 Fly Boys, by James Bradley (2004 - 464pp)
Little known account of the U.S Navy's attacks on ChichiJima, Japan's central communications center for the Pacific, where George H.W. Bush was shot down and 7 others executed. Marvelous intro on Japanese history, culture.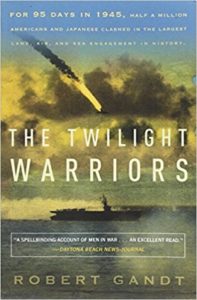 Twilight Warriors, Robert Gandt (2011 - 400pp)
Terrific accounts of Okinawa, the suicidal land and final desperate naval battles of the war in which the Japanese used mass Kamikaze attacks.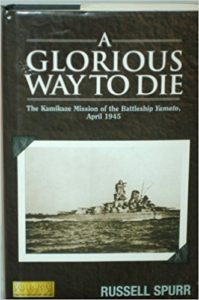 A Glorious Way to Die: The Kamakazie Mission of the Battleship Yamato,
by Russel Spurr (2010 - 368pp)
Excellent, highly readable account of the history and tragic, suicide voyage at Okinawa of the Yamamoto, world's largest battleship, the first with 18" guns.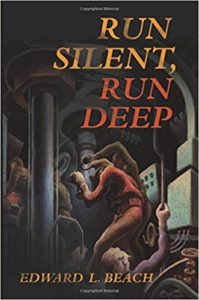 Run Silent, Run Deep, by Edward Beach  (1967 - 343pp)
The most compelling WW II underseas adventure ever, pitting heroic U.S. sub Cdr. Richardson and crew against the infamous Japanese Cdr. 'Bungo Pete'.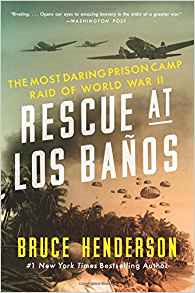 Rescue at Los Banos, by Bruce Henderson (2015, Mar - 248pp)
Mesmerizing, pulse-pounding account of the survival and rescue of over 2000 POW's from a Japanese prison camp in the Philippines at the end of WW II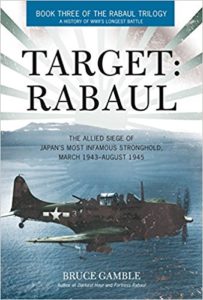 Target Rabaul, by Bruce Gamble (2013, Nov - 400pp)
Great narrative style and great read of the final allied siege of Rabaul, Japan's main navy base in the South Pacific and heart of its southern strategy.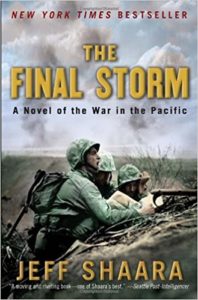 The Final Storm, by Jeff Sharra (2012 - 480pp)
Easy-to-read historical fiction of key war ending events....Okinawa, development of the Atomic bomb, Truman's deliberations, pilots and crews of Enola Gay.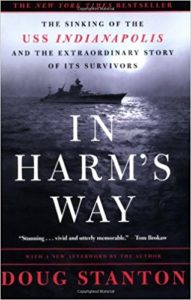 In Harms, Way, by Doug Stanton  (2003 - 268pp)
An epic lack of judgment caused the worst catastrophe in Navy history. Preventable torpedoing of the cruiser that delivered the Atomic Bomb to Guam.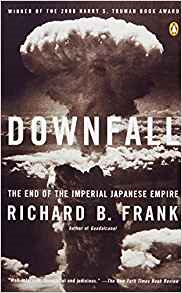 Downfall, by Richard B Frank (2001 - 512pp)
Previously unknown info on the massive buildup of Japanese homeland forces that would have led to catastrophic losses for all if The Bomb had not been used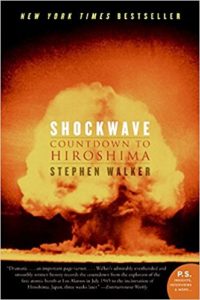 Shockwave: Countdown to Hiroshima, by Stephen Walker (2006 - 400pp)
Exceptional, taut account of the atomic bomb...initial testing and delivery to Guam, suspenseful flights to Japan and first detonation, aftermath at Hiroshima.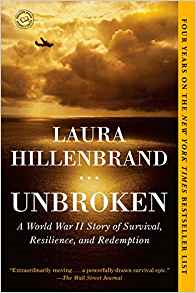 Unbroken, by Laura Hildebrand (2010 - 476pp)
Heartrending, heroic story of 1930's track star Louis Zamperini, shot down over the Pacific and imprisoned in a brutal work camp in Japan till war's end.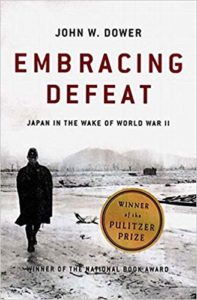 Embracing Defeat,  by John W Dower (2000 - 688 pp)
Fascinating story of the resurrection of Japan under American occupation, the attitudes of a defeated Japanese people after 15 years of war, war crimes oversight and the creation of a modern Japanese government under MacArthur.