Benjamin Franklin - America's Most Endearing Statesman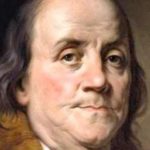 On April 14, 1790, Benjamin Franklin died at the age of 86 after an extraordinary life that began as a 15 year old runaway apprentice and culminated as America's most revered and accomplished elder statesman. Walter Isaacson's "Benjamin Franklin: An American Life" chronicles Ben's adventurous life and and the qualities that made him so appealing.
Top Recommendation for April
Benjamin Franklin, by Walter Isaacson (2004 – 608pp)
A lively, casual and engaging panorama of Ben as a man of amazing depth and breadth who wore many hats and continued to reinvent himself.